---
Latest News and Events


- see also Latest News & Events, News & Events 2008-2012 or even earlier, Previous News & Events
---
October, 2016
La Cave Grand Cru Château Ollwiller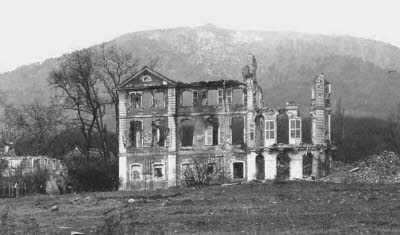 The 1st World War was hard on the wine Castle of Ollwiller in the southern part of the Alsace, 40 km north-north-west from Basel.
It had been standing since 1230, but when the smoke cleared in 1919, only parts of a few walls were left.



But the bombs could not erase what had been started by Mr. Jacques-Gabriel Gros a hundred years earlier. He laid the foundation for the later so highly praised result of the winemaking in the area.

Today, about a hundred winemakers produce Alsatian wines here. It is a very small cooperative, and the winemakers take aim for quality rather than volume.

Three Grand Crus are made here: Ollwiller, Spiegel and Zinnkoepflé. Only the castle of Ollwiller has the right to use the denomination Château d'Olwiller, making them one of the only two wines in this region with this privilege.

Black Forest is proud to make these outstanding wines available for Thailand's visitors.

---


22th of January, 2016

François Lurton on Amatara Resort, Phuket
Hardly any wine drinker in the Bordeaux area would not be familiar with the Lurtons wine family. Among the younger Lurtons the name François is recognized with considerable respect and his wines have made their names known worldwide.
As an example his 'Les Fumées Blanches' is of the most popular wines in Sweden.

Black Forest is proud to have welcomed François Lurton on Amatara, luxury resort on Cape Panwa, Southern Phuket, an outstanding setting provided and food was provided.


Invitation to Amatara...
... to meet Monsieur François Lurton
Amatara - unspoiled seaview and luxurious settings
The food did not let the surroundings down

François would not have gone anywhere without a serious attitude to winemaking
---


3rd of April, 2015

Kai Schubert
His wines is respected throughout the world and enjoys rave reviews from the likes of Wine Spectator and Robert Parker. We are proud to present him to Phuket one more time.


---
March, 2015
Impressions from Prowein, Duesseldorf, Germany
---


18th of july 2014

The Retirement of Dirk Naumann, German Honorary Consul for Southern Thailand

Black Forest was proud to be chosen as supplier to this auspicious event. 40 years in Thailand, Mr. Dirk Naumann will be remembered for his tireless work for keeping up the quality of Phuket nature and water.


From left, Mr. Rolf Schulze, ambassador of Germany to the kingdom of Thailand and retiring Mr. Nauman, and Tobias 'Tobi' Lauinger, General Manager of Black Forest Distribution
Also Phuket Governor Maitri Inthusut enjoys a German HB
in Thailand, but today all very German: people, cars, wine and beer!
Kim Steppe, Owner of Blue Elephant Restaurant, Phuket Town.
About to pour a beer to Mr Rolf Schulze.
A HB is sure to bring a smile on Chef Noi from Suay Restaurant, Phuket
---


14th of May, 2013

Kai Schubert @ Pulmann Arcadia Resort& Spa, Phuket

Black Forest Distribution held an absolutely top-class event in conjunction with the brand new Pulmann Arcadia Resort & Spa in Phuket.

A who-is-who of Phuket's hoteliers were seen at beautiful Naithon Beach


Focus is on Schubert Marion's Vineyard...
... and as always with Black Forest....when it counts it is very well set!
Peter Komposch GM Dusit Thank on the left and Brett, GM of Pullmann and the host of the night
Austrian connection. Black Forest key accounts are represented by (From left) Alfred, Director of FB Dusti Thani, Werner from Pla Seafood and Robert as the manager of K- Hotel.
Director of FB Pullmann Phuket, Daniel, and his Swiss fellow Michel, Executive Assistant Manager of Dewa Resort
Tobias welcomes personally Robert to Schubert Estate tasting at Pullmann Phuket. The resort has opened recently, and has a wide range of Black Forest products already, all across the wine list and beer menues...
Kai Schubert, from Schubert Estate in Martinborough/New Zealand, brought his personal signature to this event. His passion for Pinot Noir is remarkable!
cheers to a beautiful sunset, Marcus from Holiday Inn and Benoit from Amanpuri
After a long season it's time to relax and enjoy with partners and friends
Expert circle - Kai owner of Schubert Estate and Benoit from Amanpuri, surely exchanging thoughts and ideas
Old friends in phuket....Peter, Peter and Werner
---


3rd of May, 2013

'The Phuket News' Kan Eang Peer, Phuket

Black Forest was proud to be sponsor of the 2nd anniversary of 'The Phuket News' in Kan Eang Peer

| | |
| --- | --- |
| | |
| Great settings at seaside | Black Forest as a main sponsor of the event in excellent company |
| | |
| Jason, GM of the Phuket News, is a big fan of the Oktoberfest and German HB | Tobias welcomes phukets's real estate legend Thomas |
---


9th of March, 2013

Marchesi de Barolo at Acqua.

To close the Triology of three top international wineries paying their visit to Phuket, Black Forest had the pleasure to welcome Ms. Anna Abbona, the owner of Marchesi di Barolo and her Export Director, Mr. Alvise Lunardi.

The event was a six course wine dinner at top italian restaurant Acqua on Kalim Beach, Phuket.

More than 30 phuket restaurateurs, hoteliers, residents and friends of the good things in life joined a delightful evening on Acqua with excellent food prepared by chef Alessandro Frau and his culinary team.

See also Black Forest's collection of Marchesi de Barolo wines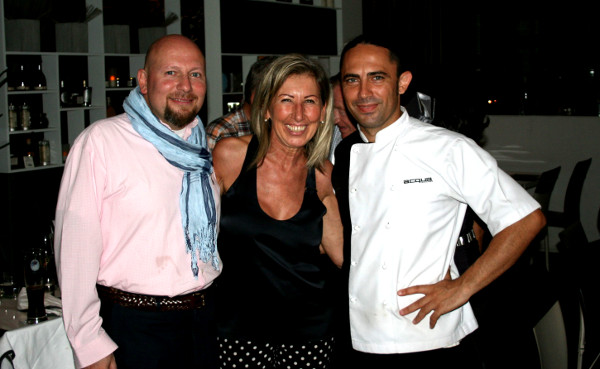 Ms. Anna Abbona, owner of Marchesi di Barolo. Left in the picture her Export Director Mr. Alvise Lunardi, and right Mr. Alssandro Frau, owner and Executive Chef of Acqua Kalim.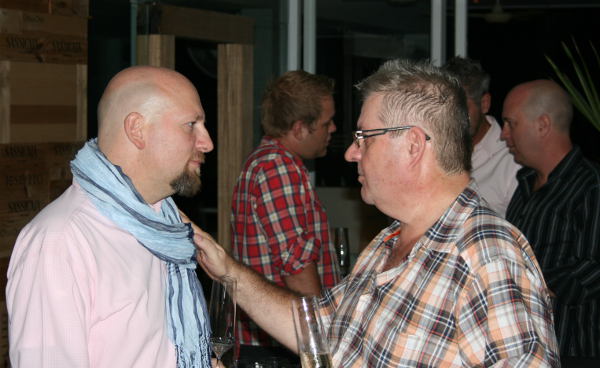 Sharing thoughts: Mr. Alvise Lunardi and Peter Blumer, owner and managing director of Black Forest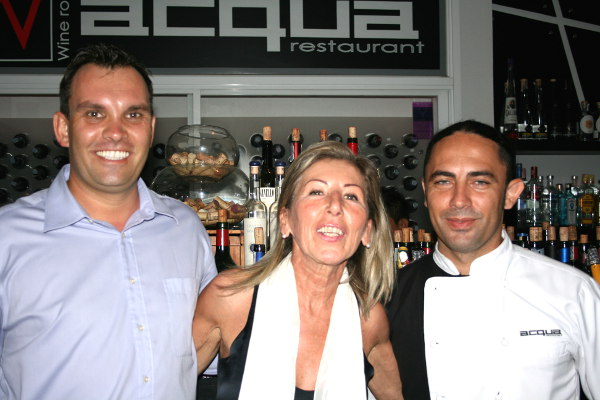 In the middle Ms. Abbona, joined by the gentlemen Tobias Lauinger, GM of Black forest and Mr. Alessandro Frau.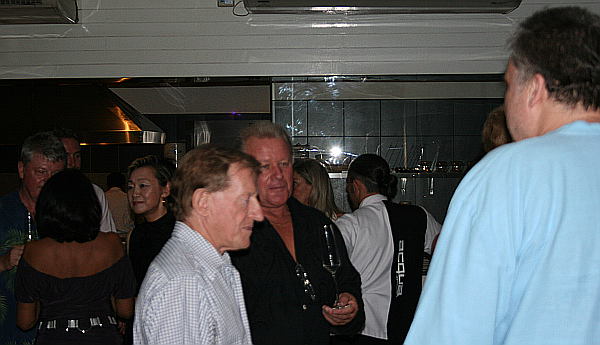 Representatives of La Chaine de Rotisseur paid a visit to this delightful night.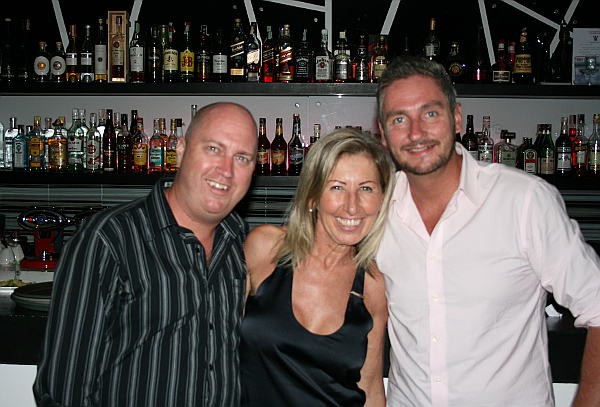 Ms. Abonna, with the "Two Chefs" from Kata Beach & Karon Beach in Phuket
---


2 March, 2013

Dr. Loosen in Red House, Phuket.

Dr. Loosen (see also previous event below) needs no further presentation for Riesling lovers. He has visited Phuket several times, and invariably draws full house.

This time the settings were in Red House Bistro and Wine Shop, Phuket, which was completed in 2012, but already is known as a leading dining and wine center on Phuket.

See also Black Forest's collection of Dr. Loosen wines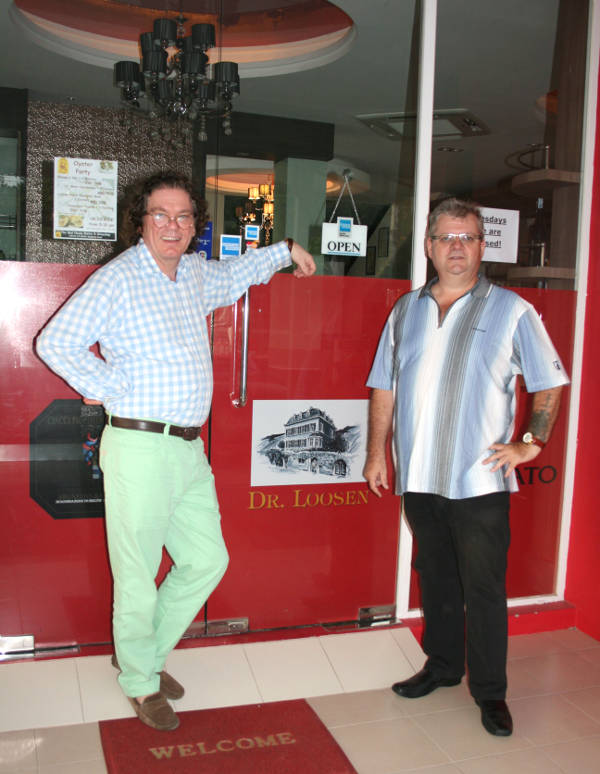 Peter Blumer, Managing Director of Black Forest Distribution welcomes Mr. Ernst Loosen to the Red House Bistro and Wine Shop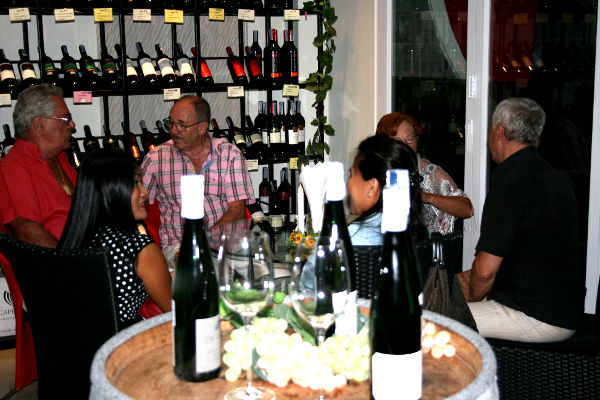 Full House at the Red House Bistro and Wine Shop, as Black Forest invited Dr. Loosen.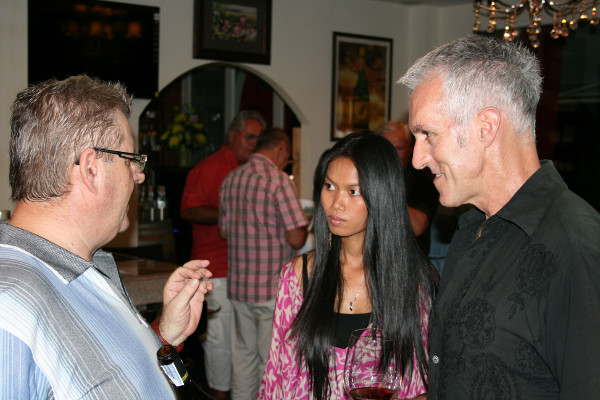 Peter blumer, managing director of Black forest distributrion explaining to Khuns Nid and Greg, Villa Baan Lom Thalay, the unique selling points of J. Christopher Pinot Noir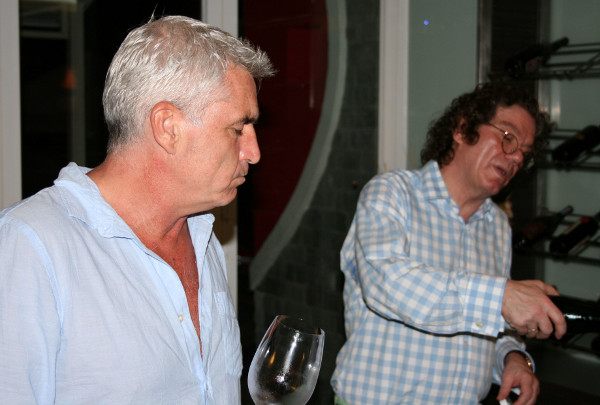 Dr. Loosen pouring excellent Riesling for Phuket's wine experts.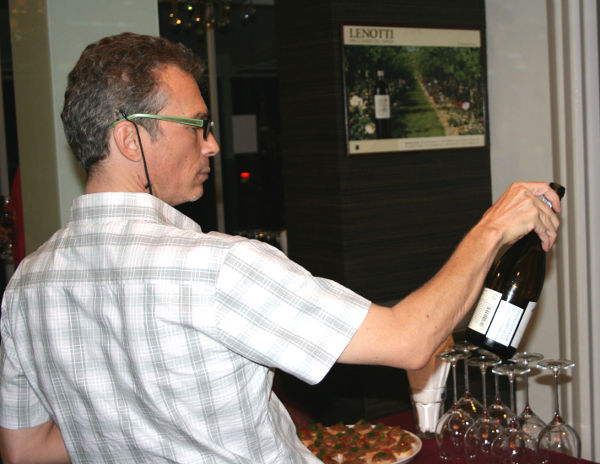 Fredi Muenger, Phuket resident and director of BITSIREN is focused on Pinot Noir from Oregon
---


1 March, 2013

Dr. Loosen on Moevenpick Resort

Dr. Ernst Loosen, 'the Godfather of Riesling', presented his wines on Moevenpick Resort, Bangtao Beach. Black Forest was proud to arrange the event which (again, should we say!) drew full house.

At the 5 course outdoor dinnner (created by executive Chef Sasha Duracovic) at the Hotel's beach Club, Ernst Loosen presented the wines also from single vineyards in his very own personal way.

Mr Loosen underlined the perfect match of German riesling with Thai cuisine.

See also Black Forest's collection of Dr. Loosen wines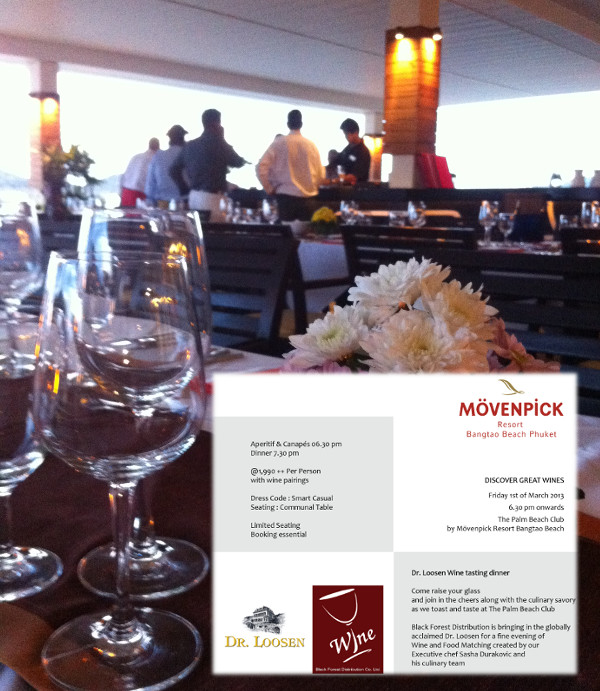 A welcome with some finger food.
---


26 February, 2013

Elena Walsh

As written for last event below, we were honored by the visit of Ms. Elena Walch, owner of Elena Walch, Alto Aldige, Italy, for the event on Da Vinci, Naiharn, Southern Phuket, customer and trustworthy business partner of Black Forest over many years.

Check out our selection of Elena Walsh wines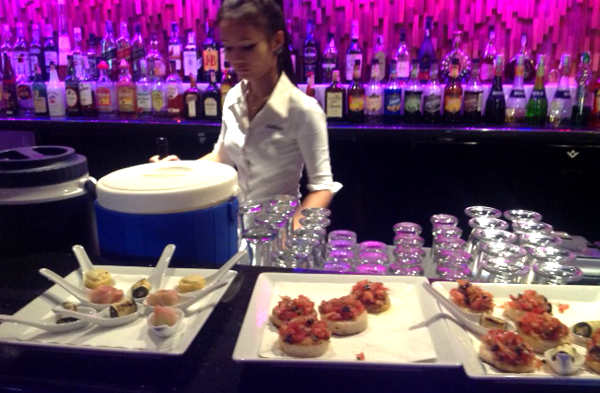 A welcome with some finger food.
Mr. Peter Blumer, owner and Managing director of Black Forest, with Ms. Elena Walch.

Left: in the back is Mr. Marcus Wirsching, GM of Holiday Krabi, coming all the way down to Phukert to experience these wines.
Right: Mr. Mike Hannha, managing director iof Siam Silverfern in conversation with Mr. Marcus Wirsching, GM of Holiday Resort, Krabi.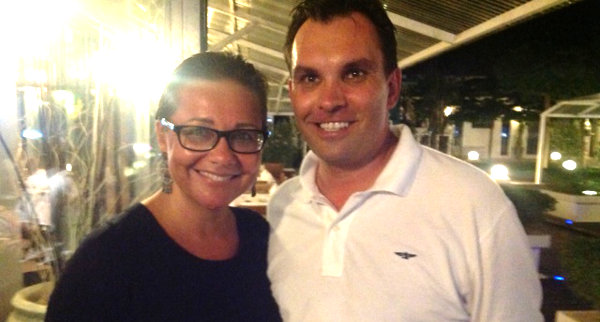 Jana Sasikova, GM and Owner of beautiful Da Vinci Italian restaurant & the host of the night, with Mr. tobias Lauinger, GM of Black Forest distribution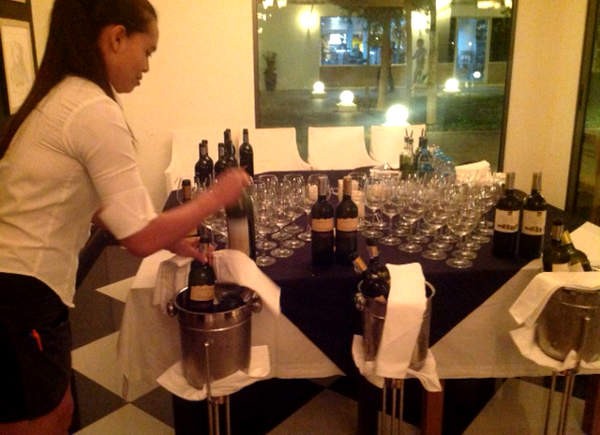 Getting ready for tasting the Sauvignon Blanc, Pinot Grigio, Gewuerztraminer, Lagrein and Merlot Reserva...
---
24 Feb, 2013

Elena Walch visits Phuket


The famous winemaker is seen here with Tobias Lauinger and Noi, owner of Soi's Restaurant.


Check out our selection of her wines
---
Below some News and Events from 2012 - see the full list here
---
29 September, 2012

The Bodegas Valdemar Wine Dinner at the Trisara Phuket. A particularly enjoyable evening, on one of the prettiest locations available.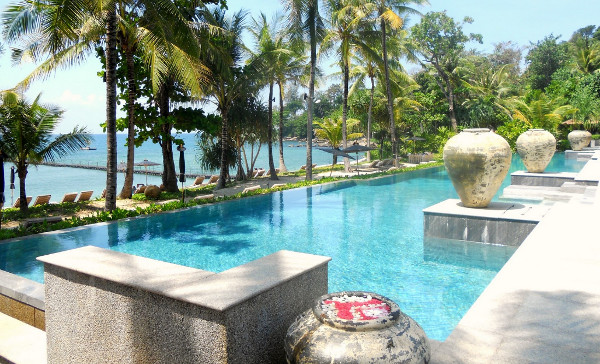 Trisara Phuket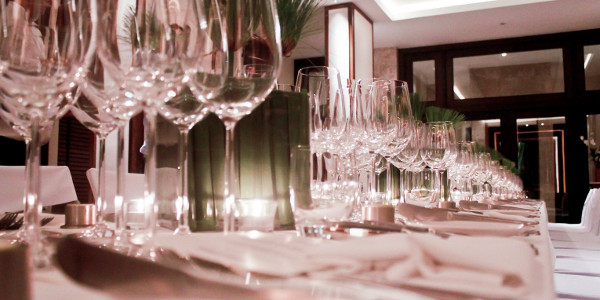 Preparations were perfect -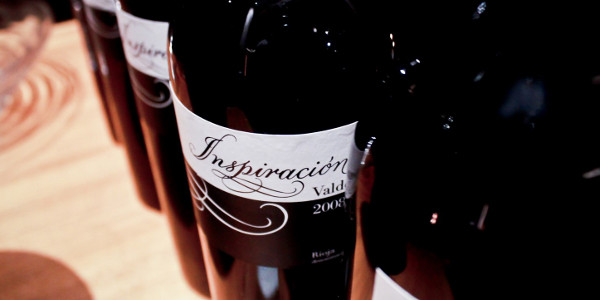 - as great wines deserve -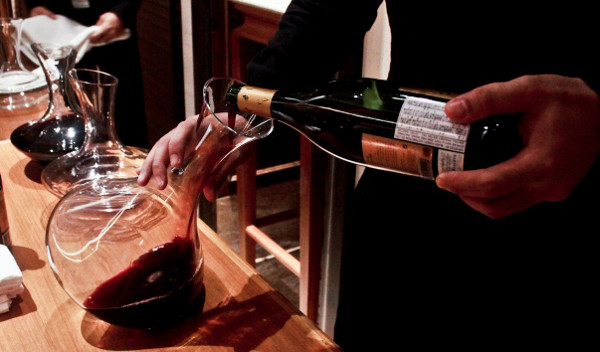 - a careful touch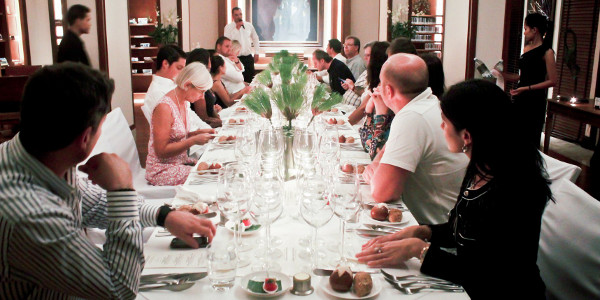 The speech
---


9th June, 2012
Parés Baltà in Wine Cellar, Bangkok
Black Forest was proud to arrange wine tasting for Parés Baltà in Bangkok, on Koh Samui and on Phuket. Unusually heavy rain was the spice that gave extra ambience to the events.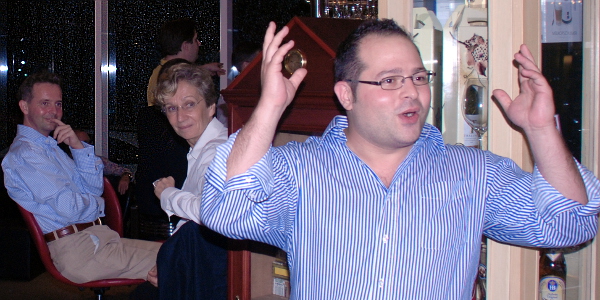 Maxime Bazart, Parés Baltà Export Manager, speaking enthusiastically about winemaking and results.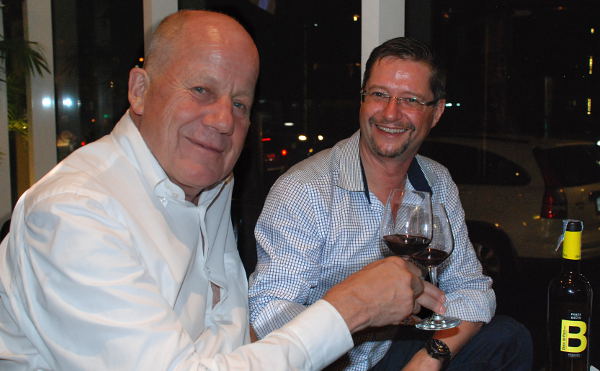 Mr. Kleinknecht has replaced the cello with the company of Mr. Michael Noel, Food (Com) Thailand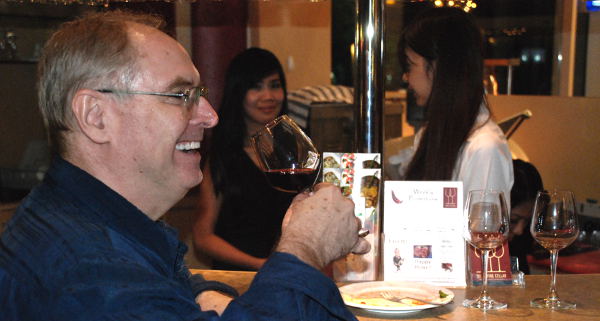 Mr. Horst Rudolf, ret. ambassador: " - It is very rare to join a winetasting where each and every wine is outstanding. This is the exception!"
Black Forest Distribution Co., Ltd.

123/30-33 Moo.7
Wichitsongkram Road
Phuket 83120
Thailand




| | |
| --- | --- |
| Web: | www.phuketwine.com |
| Email: | |
| Tel: | +66-76-608-876, -319-864 |
| Fax: | +66-76-608-876, -319-864 |
© 2003-2008 Black Forest Distribution Co., Ltd. and U5com Co., Ltd.